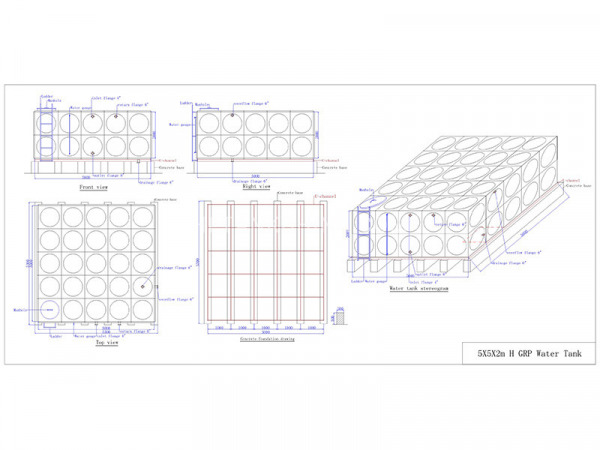 CAD Drawing Confirmation
Water tank size designed according to exact customer requirement.

Accessories available for both inner/outer water tank for drinking/non-drinking applications.

Flange types and positions meet American and English Standards.

CAD drawings matches customers' requirements for better confirmation.
Manufacturing Process
Pre-production: All raw materials are food grade.

Production:Each panel are in strict quality control and make sure each panel flawless.

After-Production:All panels completion,there are second quality control team randomly picks some for weight and strength inspection.

Finally,all panels will be classified and stocked temporarily according to panel thickness.
Packing
With over 5 years of export experience,in case of sailing and delivery rocking,all packing evolves from initial pallet to iron frame and plywood cases package.

Each panel and accessory will be exactly marked so that customers could find which is which and easily check out goods on-site.

For each packing,there are spare-parts for both panels and accessories(Huili Only).
Loading and Delivery
Each iron frame will be covered one membrane film in case of long-time salty sea water  affection.

All loading process fully take how to make loading and unloading fast and convenient and saving cost into account for customers.
Water Tanks Demonstration